Midi Classic Automatic Home Water Distiller 7 Gal/Day, 5 Gal Reserve with Stand
SKU:

42999-42530-DS

UPC:

Weight:

61.50 LBS

Shipping:

Calculated at Checkout
The Midi Classic Automatic Home Water Distiller is a fully automated distiller for home use with the capacity to make one gallon of distilled water every 3 1/2 hours. This electric distiller holds approximately five gallons of pure water in its stainless steel holding tank. The Midi series is a favorite among buyers and is in daily use in over 130 countries worldwide. The Midi-Classic can also be used by small businesses or homeowners as a well water purification system.
This model comes with a stainless steel stand that allows the unit to be elevated 18 inches from the floor. This also helps you avoid using valuable counter space. (Pictured with optional casters which can be purchased separately.)
The Midi-Classic is constructed of top-quality stainless steel to provide years of dependable service with minimum care. It is fan cooled and equipped with a unique float design to stop automatically when the storage tank is full. A switch inside the unit can change the machine to manual fill operation for versatility. The unit has built-in steam-sterilization and is easy to clean. A safety shut-off switch turns the unit off automatically. The Midi-Classic is designed for many years of trouble-free service and comes with a 15-year limited warranty. Each Pure Water distiller is complete with twin vents to allow the volatile gases to escape. Additionally, a carbon block post filter is included to aid in the removal of any organic or inorganic gas carryover and to improve taste.
Key Benefits of the Midi Classic Automatic Water Distiller:
Can produce approximately 7 gallons of water per day
Built-in 5-gallon stainless steel storage tank
Ideal for 2-4 People
Made from T-304 Grade Stainless Steel so it's Long Lasting & Durable
Longest Warranty in the Industry
Green Alternative to Plastic Bottles and No Need for Water Delivery
Remove the widest range of waterborne contaminants
Made in the USA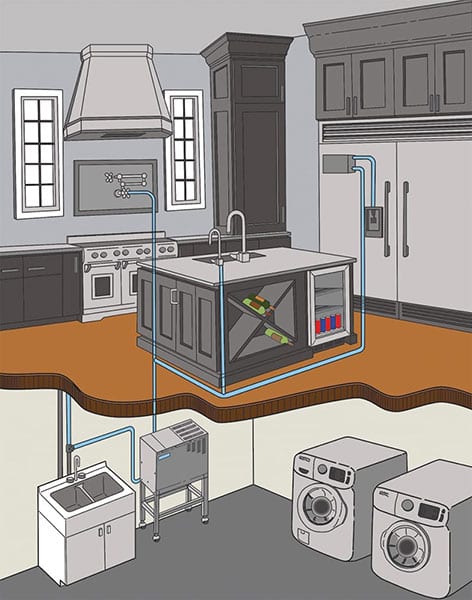 Installation of the Midi Water Distiller
What's Included:
The Midi Classic Water Distiller with stand.
An in-line activated carbon VOC filter absorb any possible VOC and to enhance taste
Optional Add-ons:
A demand pump makes it easy to transport distilled water to up to three (3) points of use, including faucets, refrigerators or ice makers. The Midi is specially equipped with mounting holes to allow easy installation of an accessory demand pump. This makes the Midi Classic Automatic Water Distiller particularly convenient and a favorite among homeowners.
Purchase a glass jar for water so you can store it in your refrigerator for a cold water option.
Specifications:
item # 42999
width: 21" (53.3 cm)
depth: 18" (45.7cm)
height: 16.5" (41.9 cm)
height (w/stand): 34.5" (87.6 cm)
machine weight :41.5 lbs. (18.9 kg)
current draw (120V): 9.0 amps
current draw (240V): 4.5 amps
total wattage 1,100 watts
max. distilling capacity: 7 gallons per day (26 liters)
storage capacity: approx. 5 gallons
Placement:
The Midi Classic must be placed at least 18 inches off of the ground if not using the stand.
The Midi Classic must be placed near a water line.
The Midi Classic can be placed on a countertop or a stand where there is at least 3 inches of clearance above and around the machine. This is needed for ventilation.
DO NOT run the Midi Classic water distiller in a small enclosed space, like a cupboard or under the sink.